I got this recipe from a friend, CVS ( not the store). Before I always used canned spaghetti sauce. .84c a can was worth not making it. Until he came over and made this!! Now I use it in everything. Spaghetti, lasagna, chicken Parmesan, pizza, anything you would use tomato sauce in. There is just one thing I do differently and that is add sausage seasoning to the ground beef. The best seasoning I have ever had I can only find in Florida. I can't find it in any of the stores around here. The brand is Legg's and one package seasons 25 pounds of meat. So I just dump it into a jar and measure out what I need.
Spaghetti Sauce
1 pound of ground beef
2 3/4 tsp sausage seasoning
1 large onion, chopped
1 green pepper, chopped
1 4oz can of mushrooms, do not drain ( I use stems and pieces)
1 15 oz can of tomato sauce
1 6oz can of tomato paste
1 14.5oz can of crushed or diced tomatoes
1 can of water ( I use the tomato sauce can)
1 Tbsp garlic salt
1 tsp Italian seasoning
1 tsp basil
1 tsp dill weed
1 tsp oregano
1 tsp vegetable oil
Mix sausage seasoning with ground beef. In a sauce pan, over med-high heat, brown meat. Do not drain. In a separate pan, with oil, cook onion and green pepper until slightly brown. Add to meat. Add remaining ingredients and bring to a boil. Reduce heat and simmer for at least half an hour. Stirring occasionally.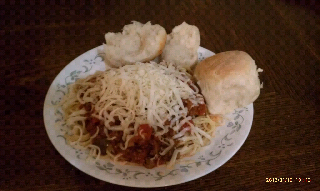 Spaghetti
Isabella loves it too!
2
3